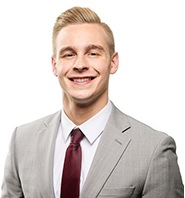 Derrick J. Goodenow, CFP®
Associate Wealth Advisor
Derrick joined the firm in 2019 after an internship and currently serves in the position of Associate Wealth Advisor. In this role, Derrick works closely with the firm's clients to assist with their comprehensive financial planning, investment strategy, executive benefit planning, retirement planning, insurance planning, tax planning/preparation, and estate planning. Derrick has previously served on our Tax Preparation Team and our Engagement Planning Group. Derrick currently co-manages the firm's Financial Planning Internship Program.
Derrick graduated Summa Cum Laude from Edinboro University of Pennsylvania, earning a Bachelor of Science in Business Administration with dual concentrations in Personal Financial Planning and Accounting. While at Edinboro, Derrick founded and acted as President of the Personal Financial Planning program and worked to make it an official chapter of the Financial Planning Association (FPA).
Derrick currently resides in Conneautville, PA. He enjoys staying active, spending time outdoors, watching sports, traveling, and spending time with his family and friends.
CERTIFICATIONS/LICENSES:
• Certified Financial Planner (CFP®)
PROFESSIONAL ORGANIZATION AFFILIATIONS:
• Financial Planning Association (FPA) – Member
• Financial Planning Association, Edinboro University Chapter – Founder, Past President
AWARDS:
• Accreditation Council for Business Schools and Programs (ACBSP) Leadership Award – Edinboro University
• President's Excellence Award – Edinboro University