Promotion Announcement
CI Radnor Private Wealth -
May 13, 2022
Radnor Financial Advisors is pleased to announce the following recent promotions among our team members: Haley Becker has been promoted from Financial Planner to Senior Financial Planner. Haley has consistently demonstrated initiative…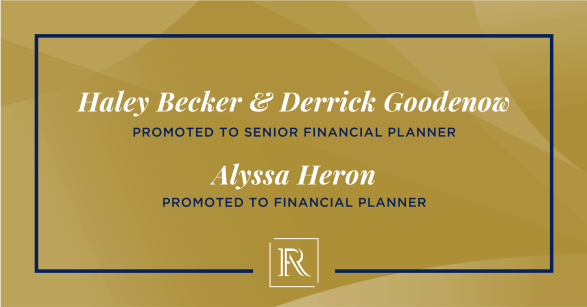 Radnor Financial Advisors is pleased to announce the following recent promotions among our team members:
Haley Becker has been promoted from Financial Planner to Senior Financial Planner. Haley has consistently demonstrated initiative in her work and dedication to the firm since joining Radnor in March 2017. In her role she works directly with the financial consultants in support of long-range client relationship management, as well as more immediate client service needs. Haley is also a member of the engagement planning group, in which she leads social media marketing and client event planning.
Derrick Goodenow has also been promoted from Financial Planner to Senior Financial Planner. Derrick began his career as an intern with Radnor, and joined the firm full-time in 2019. In his role, Derrick works closely with clients on a broad array of financial service matters to support their diverse needs. Derrick now leads Radnor's internship program as well.
Alyssa Heron was promoted from Associate Planner to Financial Planner. Alyssa joined Radnor in 2020, working closely with the firm's financial planners and consultants to assist them in a wide range of client matters. She has newly acquired the CFP® designation, the standard of excellence in financial planning.
Radnor Financial Advisors is an independent, fee-only, wealth management firm in the Philadelphia area that specializes in providing comprehensive financial planning and investment management services. We are proud to recognize these employees for their continued efforts and talent in furtherance of our mission to positively impact our clients' lives. Please join us in congratulating Haley, Derrick, and Alyssa on their well-deserved promotions.