Traveling with a purpose
BDF Website -
Nov 02, 2022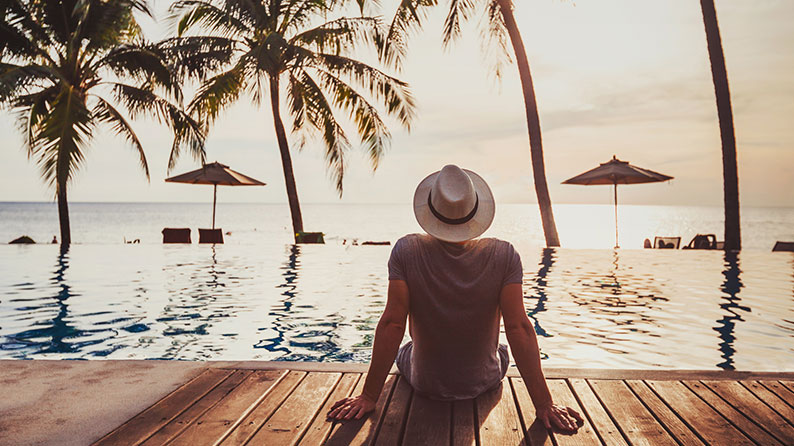 Our mission at CI Private Wealth is to help clients enjoy a full life and achieve their goals. And for many, that involves traveling. While travel certainly provides a welcome escape from everyday stress and makes us "feel good" mentally, physically and emotionally, what if we could also "do good" for the world at the same time? In other words, what if we could travel with a purpose? We can!
What is impact travel?
Impact travel is a way in which we, as tourists, can ensure our journeys positively impact the places we visit. It is, in fact, traveling with a greater purpose. And it's also a growing trend in the travel industry. According to an American Express Travel global trend report, 78% of those surveyed said they want to positively impact the places they visit, while 81% want to make sure that much of the money they spend on travel goes back to help enrich the local community in some form1.
How can you travel with purpose?
There are many ways to engage in impact travel. Feel free to choose your own altruistic adventure, but if you're looking for some inspiration, here are five popular approaches to traveling with impact:
1. Stay at socially and/or environmentally conscious hotels, resorts and lodges
Some hotels purposefully donate to certain local causes or give back to their communities through charity events or a percentage of fees they charge guests. "Eco-friendly" hotels attempt to lessen their carbon footprint in various ways, such as by using solar energy, recycling, eliminating plastics by having smart locks/mobile keycards and refillable containers for toiletries, and reducing water usage by encouraging guests to reuse towels2. Even if you're not staying at an expressly eco-friendly hotel, you can still contribute by managing your consumption of water, hydro, heat and air conditioning; informing the cleaning staff that certain linens are still clean; recycling newspapers, brochures and bottles where possible; taking stairs instead of the elevator (if practical), etc.
2. Support local businesses
When I travel, I try to do less "touristy" things. I like to eat at local restaurants, stay at non-chain hotels, and buy gifts and souvenirs from local artisans. Doing these things makes me feel like my travel dollars are going more directly back into the community. During a recent trip to Rwanda, I visited the Nyamirambo Women's Center in Kigali, an NGO providing education and vocational training for women. In addition to offering highly informative neighborhood walking tours, the center also sells clothing and other accessories made by local female artisans3. Wherever you visit, you may find organizations that similarly benefit the local community and their residents.
3. Participate in eco-activities
While traveling, you can participate in many enjoyable activities that do little or no damage to the environment. Stargazing, hiking and glamping are some possible examples. Safaris and visits to animal sanctuaries are ways to see incredible wildlife in their natural habitats, as well as a means of learning about animal and environmental conservation. While African safaris can be expensive, those tourism dollars can help to create jobs for locals who often provide the labor for safari lodges and help prevent the poaching of wildlife, such as elephants and rhinos.
4. Travel at off-peak times and to offbeat places
When you travel at less-popular times of the year, you might both avoid crowds and actually engage in impact travel. Many destinations suffer from over-tourism, which is bad for the environment and for locals whose quality of life can be diminished from the crush of too many travelers. Another way to make a positive impact is to "take the road less traveled." Choose small villages over big cities and seek more adventurous destinations. Some of my best travel experiences weren't to Paris, Rome or other popular destinations, but to places that don't rank high or even appear on most travel "bucket lists."
5. Engage in "voluntourism"
Voluntourism is a form of tourism in which travelers participate in volunteer work, typically on behalf of a charitable organization. This could involve building homes (e.g., Habitat for Humanity), digging wells so people have access to fresh water, supporting medical/health care efforts, or teaching English. Voluntourism is a way to enjoy far-flung parts of the world while also giving back. However, voluntourism can have a downside as, in some cases, it may do more harm than good. Volunteers are often inexperienced. It can drain local resources and disrupt local economies. And it may even lead to the exploitation of children. This is particularly true with orphanage tourism. While this type of travel can bring a lot of money into orphanages, it often leads to children being forced to entertain tourists to encourage donations and support. So, when deciding to volunteer as part of travel, it's important to associate with reputable organizations and charities that consider and avoid these potential abuses.
Just get back out there traveling
Understandably, the global pandemic put a halt to many of our travel plans. It also had sizable negative consequences on global tourism as a whole. Worldwide tourism is a multi-trillion-dollar industry that was cut nearly in half in 20204. That decline had the biggest effect on countries whose residents and overall economies rely heavily on tourism5.
By just getting back out there and traveling, we are doing our part to revitalize the industry and positively enhance the lives of thousands of communities and millions of people around the globe. That's what I call traveling with purpose – and impact!
1 https://www.americanexpress.com/en-us/travel/discover/get-inspired/global-travel-trends
2 https://www.danacommunications.com/how-hotels-and-resorts-can-reduce-their-carbon-footprint
3 This reference is not an endorsement of the venue, and we are not affiliated with it.
4 https://wttc.org/Portals/0/Documents/Reports/2021/Global%20Economic%20Impact%20and%20Trends%202021.pdf
5 https://www.brookings.edu/research/the-covid-19-travel-shock-hit-tourism-dependent-economies-hard
Author